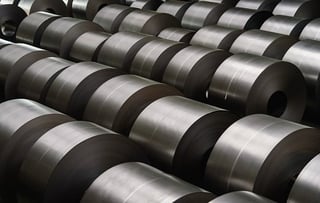 Stainless steel is one of the most common materials used in industrial or commercial fabrication because of its strength, durability, and versatility. One factor that contributes to the material's popularity is the availability of several finishes that can totally transform your project from a rustic style to a glamorous one.
What is a Stainless Steel Finish?
Stainless steel comes in a variety of finishes, which are best chosen based on the scope of your specific project. If you've ever purchased kitchen appliances or simply strolled down the bathroom fixtures aisle in your local hardware store you've likely seen several possibilities. There are brushed, shiny or metallic-looking, and mirrored stainless steel options for you to choose from.
Choosing the right stainless steel finish for your particular job will vastly depend on your project scope because different finishes have different porosity, which could affect the longevity of the metal. For example, stainless steel used for exterior applications are often a glossier finish with a finishing coat of sealant to prevent exposure to the elements and the resulting erosion of the material.
Which are the Stainless Steel Options?
Stainless steel straight from the mill comes with a hot rolled finish, which means it looks like you imagine a piece of metal should look like. It's not particularly shiny or glossy, and it's not brushed or mirrored. This metal is left as-is and is often used for products that will be visible to customers. This has a similar finish to a traditional kitchen sink.
Some metal comes cold rolled, which gives it a dull or flat finish. This material is more grainy and is usually a lower price than metal with a hot rolled finish. This metal is left as-is and is often used for projects that need the strength and durability of stainless steel, but not necessarily a high-end finish.
For ordering purposes, numbers are associated with different metal finishes as follows:
#2B or #2D represents cold rolled metal that has a dull finish, which is perfect for durability but lacks that "finished" look
#3 or #4 represents hot rolled metal with a nice finish perfect for a professional and finished look on your next project (think: kitchen sink). This is great for welding projects with seams you want to blend in.
#10 represents hot rolled metal that is like a mirror, which often goes to a polisher when manufacturing is complete (prior to installation)
Between 3 and 10 is a sliding scale of mirrored finish. If you're not sure how much mirroring you want, our team can show you samples of several different options during the ordering process.
Which Stainless Steel Option is Best for Your Job?
When it comes to finding the right material for your job, the team at All-Type Welding and Fabrication, Inc., will be happy to work with you to find the right finish for the aesthetic you have in mind. Stainless steel offers the durability, versatility, and strength for commercial and industrial applications.
Contact our team not to find out which stainless steel option is the best choice for your job.