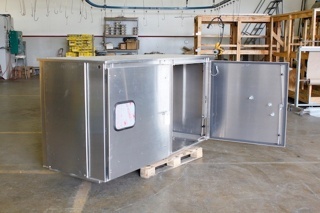 If you've got a particular fabrication need, aluminum sheet metal fabrication may be just the solution you're looking for to get the job done right and on budget. Unlike other commonly used materials, aluminum offers several additional benefits thanks to its lightweight and flexible nature.
At All-Type Welding & Fabrication, Inc. our team often utilizes aluminum sheet metal fabrication for jobs that need the strength and durability of metal, but don't need the weight and cost of alternative options. Find out more of the benefits of aluminum sheet metal fabrication compared to commonly used materials below.
Aluminum Sheet Metal vs. Plastic Fabrication
If you've got a particular fabrication need, such as a part for new equipment or a specified part you need created, aluminum sheet metal and plastic are often two choices available to you. And while both offer the affordability you need to maintain your bottom line, there are definitely some differences between the two.
Plastic fabrication, while affordable and multi-faceted, presents several problems. One of those is that it offers little resistance to wear and tear over time. If you're dealing in an environment with corrosive chemical elements, high temperatures, or even just repeated friction, you'll find that a plastic part will fail quickly.
On the other hand, utilizing aluminum sheet metal is an excellent alternative. Aluminum has a higher heat resistance than plastic, offers comparable affordability, and has improved strength compared to plastic. Aluminum sheet metal fabrication is a versatile and cost-effective solution to the problems of plastic fabrication.
Aluminum Sheet Metal Fabrication vs. Steel
In recent years, aluminum has become a common alternative to steel metal fabrication. Aluminum is a lightweight metal that is not magnetic that is incredibly strong and versatile. In addition, aluminum is corrosion resistant unlike steel, which can rust quickly when left out in the elements without a tight finish.
Aluminum sheet metal can be used in many of the same ways of steel. It can undergo laser cutting for precision work, can undergo aluminum welding for tight and sealed bondage, and can also be melted, formed, and machined like other fabrication metals.
The biggest benefit of using aluminum sheet metal fabrication over steel is the weight of the metal. Aluminum offers a weight that is roughly one third of that of steel, which means that it's an excellent solution for fabrication projects that need versatility.
Still not sure if aluminum sheet metal fabrication is the right solution for your next job? Contact the team at All-Type Welding & Fabrication to learn more.