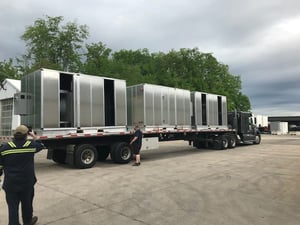 Companies that partner with All-Type Welding and Fabrication, Inc. know that they can put a heavy burden on us from the standpoint of a drop-dead delivery and have the confidence to know that we're going to make it happen, even though it seems like an impossibility. Read our latest project profile to learn how we did just that.
Project Details:
Customer: Construction Equipment Supplier
Product Name: Air-Cooled Chiller
Application: Rental Power System
Equipment Used: Trumpf TruBend 5230
Material Used: Aluminum
Timeline: Eight Weeks
The Objective
Reverse engineer an air-cooled chiller using precision metal fabrication and welding services that deliver high-quality results.
The Challenge
A construction equipment supplier that provides a wide range of cooling products, including chiller rentals, needed an immediate solution to meet their delivery.
The customer wanted to reverse engineer an air-cooled chiller in a short timeframe that had the structural integrity to be picked up with tow motors or cranes without stressing the metal.
Needing a quick solution, ATWF was asked to build six units in eight weeks to get them on the truck and delivered on time for the customer. A project of this magnitude would typically be quoted as a 12- to 16-week project.
The Process
In conjunction with the customer's engineers, ATWF's engineering services team laser cut all the sheet metal, plasma cut the C channel and used its press brakes for forming the metal on all the bends. A full fabrication project, ATWF used all of its equipment in one aspect or another, including the Fronius TPS 320i Pulse (aluminum MIG).
MIG welding is a semi-automatic process that, when done correctly, offers a strong joining of two pieces of stainless steel. This process uses an argon-rich shielding gas and solid wire electrode.
MIG welding is a popular choice because it allows the welder to utilize a pulsed current supply, which can make it easier to weld those tough-to-reach spots on complex stainless steel projects. Other gas mixtures, including those with helium, oxygen and carbon dioxide, are often used to stabilize the arc and improve the quality of the weld.
"It was kind of unique because I had a couple [of their guys] in my shop periodically doing their part of the assembly, so it was a co-venture in that sense, which generally we don't do," ATWF president and CEO Michael DiStaulo said. "It went pretty well."
The Results
After building the first unit in April, ATWF quoted the price for the other five, ordered the material and built the remaining units at the beginning of May. Despite having to make some modifications on the fly while building, ATWF built five more units in less than four weeks. What should've been a 12- to 16-week project was finished in eight weeks. By the time the project was done, each unit weighed almost 5,000 pounds.
"They were happy," DiStaulo said. "They got them on the truck and got them to where they were supposed to go."
---
"We were able to meet our requirements on our units and they have performed to our high standards. We are very satisfied with the overall performance and cooperation we receive when working with ATWF and will continue to build a strong relationship."
Scott, Project and Site Manager
---
While it was a challenging experience to have the customer supply their personnel to co-assemble the units as ATWF built them, DiStaulo said it was a positive business venture for his team.
Looking back, DiStaulo isn't sure how he and his team finished the project in eight weeks, but they did.
"The big part of why companies come to our company is because when we have an impossible delivery, we somehow, someway manage to meet the delivery," he said.
From engineering services to metal welding and fabrication, ATWF has the expertise and equipment to meet stringent requirements for mission-critical components.