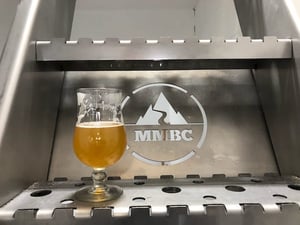 Getting an order through as quickly and accurately as possible is the mindset of All-Type Welding and Fabrication, Inc., and we back our work with a rigid fabrication process, certifications and inspection services that ensure excellence. Learn how we provided just that for one Ohio brewing company.
Project Details:
Customer: Missing Mountain Brewing Company
Product Name: Stainless Steel Tubing
Application: Patio Railing
Equipment Used: Trumpf TruLaser 5030 & Trumpf TruBend 5230
Material Used: 11-Gauge Stainless Steel
Timeline: 1.5 Weeks
The Objective
Laser cut and weld nearly 300 feet of stainless steel tubing to be installed on the patio of Missing Mountain Brewing Company, an Ohio-based brewery.
The Challenge
Missing Mountain Brewing Company needed a cost-effective welding solution for its back patio. After a successful ladder project with ATWF, the brewery again turned to ATWF for its patio expansion project.
Known for its quality of work and quick turnaround times, ATWF was asked to laser cut and weld nearly 300 feet of stainless steel tubing in less than two weeks so that it could be installed in time for the customer's first-anniversary party.
The Process
Due to the amount of material and short timeframe, ATWF Vice President of Operations Brett Dickerson pulled some favors with people he knows in the industry.
"I called one of our suppliers and asked them, 'Hey, I've got a big project. If I can get materials here tomorrow, I can get it to a guy that can do the laser cutting of the tubing.'"
Dickerson ordered the tubing and had it within 24 hours. Three days later, ATWF had everything cut in-house and ready to weld.
"It's nice to have suppliers that understand what we're doing and will turn stuff for us that quickly," Dickerson added. "If we can't do everything completely under our roof and it requires machining from a CNC that we don't have, we've got a good database of friends and people we've worked with that we can pull favors."
Because there were no drawings, ATWF drew up the entire patio with elevations to fit the railings and ramps, which were at different angles.
The 1.5" OD 11-gauge stainless steel was bent and formed with the Trumpf TruBend 5230. ATWF's welders have the skill and experience to weld all types of stainless steel and can meet any inspection, certification and documentation need along the way—helping customers save time, money and hassle.
The Results
ATWF got all the tubes laser cut and welded and delivered them to the customer in time so that they could open sections of the patio for their anniversary party.
"ATWF did an amazing job with our projects," said brewery co-founder Keith MacFarlane. "Great communication, craftsmanship and overall great customer service."
What was a four- to five-week project was completed in a week and a half—saving the customer at least half of what it would've cost had they gone with the west-coast company they were initially considering.
Once ATWF gets an order, it doesn't sit on it with delivery dates.
"We work on it no matter whether it's due three months from now or due tomorrow," Dickerson said. "That's the way we're able to do the quick turn. I spent a lot of time on this project, but minimal overtime from the floor to get this done."
"The sooner we can get a project done quickly and accurately, the sooner we can move on to something else. That's one thing a lot of our customers like is we try not to sit on quotes. Very rarely do we have something in-house for 24 hours and it's not quoted. Usually within minutes to a couple of hours."
Since 1987, customers have relied on ATWF to handle the design, precision metal fabrications and welding of thousands of projects using dozens of different materials and the most precise metal fabrication tools.